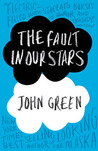 The Fault in Our Stars by John Green
My rating: 4 of 5 stars
I read this book simply because of the hype and the movie is about to be released. I had heard good things about it, and it is a good book. It's a quick read and of course sad in parts. I grew a little tired of all the existential talk that took up most of the book, but I think it portrayed cancer and living with cancer is a fair, honest way. The truth is cancer is unfair and something that affects many people around those that do have it. I liked the characters and empathized with them. I felt that Augustus was your typical larger than life character that is lost long before his time. I would like to know what happens to Hazel. I guess I think of her like she did the character Anna in her favorite book. I like to believe she continued living and experiencing life for much longer than anyone expected.